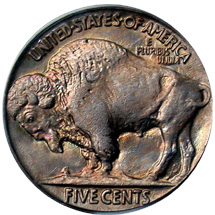 The Buffalo Nickel was struck for circulation from 1913 to 1938 at the Philadelphia, Denver, and San Francisco mint facilities. Mintages cover a fairly wide range from a low of just 970,000 pieces for the 1926-S Buffalo Nickel to a high of more than 100 million for the 1936. Many of the earlier dates of the series command premiums even in lower circulated grades.
The typical pattern throughout the series is for the Philadelphia Mint issue to have the highest mintage, followed by the Denver Mint issue, and finally the San Francisco Mint issue with the lowest mintage. As such, for most dates the values for circulated pieces fall into the same order.
Production
For the first year of issue, production was divided between two types. The 1913 Type 1 Buffalo Nickel featured the bison standing on a raised mound, while the 1913 Type 2 Buffalo Nickel featured a flat mound and recessed inscription "FIVE CENTS." This change was performed to avoid having the denomination wear away in circulation. No other modifications were made to the design for the duration of the series.
For many of the "D" and "S" mint issues throughout the 1920's, coins can show areas of light striking at the highest points of the design. Some uncirculated pieces will have the appearance of lower grades due to the lack of detail.
The table below contains the mintage figures for circulation strike coins. It's worth noting that there was no Buffalo Nickel produced in 1922. Proof Buffalo Nickels were produced from 1913 to 1916 and from 1936 to 1937 in limited quantities.
| Date | Mintage |
| --- | --- |
| 1913 Type 1 | 30,993,520 |
| 1913-D Type 1 | 5,337,000 |
| 1913-S Type 1 | 2,105,000 |
| 1913 Type 2 | 29,858,700 |
| 1913-D Type 2 | 4,156,000 |
| 1913-S Type 2 | 1,290,000 |
| 1914 | 20,665,738 |
| 1914-D | 3,912,000 |
| 1914-S | 3,470,000 |
| 1915 | 20,987,270 |
| 1915-D | 7,569,000 |
| 1915-S | 1,505,000 |
| 1916 | 63,498,066 |
| 1916-D | 13,333,000 |
| 1916-S | 11,860,000 |
| 1917 | 51,424,019 |
| 1917-D | 9,910,000 |
| 1917-S | 4,193,000 |
| 1918 | 32,086,314 |
| 1918-D | 8,362,000 |
| 1918-S | 4,882,000 |
| 1919 | 60,868,000 |
| 1919-D | 8,006,000 |
| 1919-S | 7,521,000 |
| 1920 | 63,093,000 |
| 1920-D | 9,418,000 |
| 1920-S | 9,689,000 |
| 1921 | 10,663,000 |
| 1921-S | 1,557,000 |
| 1923 | 35,715,000 |
| 1923-S | 6,142,000 |
| 1924 | 21,620,000 |
Buffalo Nickel Mintages Continued
| Date | Mintage |
| --- | --- |
| 1924-D | 5,258,000 |
| 1924-S | 1,437,000 |
| 1925 | 35,565,100 |
| 1925-D | 4,450,000 |
| 1925-S | 6,256,000 |
| 1926 | 44,693,000 |
| 1926-D | 5,638,000 |
| 1926-S | 970,000 |
| 1927 | 37,981,000 |
| 1927-D | 5,730,000 |
| 1927-S | 3,430,000 |
| 1928 | 23,411,000 |
| 1928-D | 6,436,000 |
| 1928-S | 6,936,000 |
| 1929 | 36,446,000 |
| 1929-D | 8,370,000 |
| 1929-S | 7,754,000 |
| 1930 | 22,849,000 |
| 1930-S | 5,435,000 |
| 1931-S | 1,200,000 |
| 1934 | 20,213,003 |
| 1934-D | 7,480,000 |
| 1935 | 58,264,000 |
| 1935-D | 12,092,000 |
| 1935-S | 10,300,000 |
| 1936 | 119,001,420 |
| 1936-D | 24,814,000 |
| 1936-S | 14,930,000 |
| 1937 | 79,485,769 |
| 1937-D | 17,826,000 |
| 1937-S | 5,635,000 |
| 1938-D | 7,020,000 |