The 1918-D "8 Over 7" Buffalo Nickel (Buy on eBay) is a well known overdate. The over-dated dies were created as the result of a hubbing* error that occurred in late 1917. A working die was impressed with a hub dated 1917 and subsequently given another impression from a hub dated 1918. The number "7" remains plainly visible beneath the "8" on high-grade examples.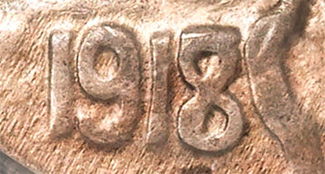 For many years, the 1918/7-D Buffalo Nickel went unnoticed by collectors. The first mentions appeared around 1930, meaning that most examples experienced significant circulation before detection. More widespread knowledge of the overdate came later when it was included in the Guide Book of United States Coins published in 1946.
An estimated 100,000 pieces were initially produced, but due to the delay in identification and long duration before the variety became well known, many of these were heavily circulated or became "dateless." It is estimated that fewer than 40 specimens survive in mint state grades, with seven pieces that have been graded MS65 by PCGS or NGC.
In January 2010, an example of the 1918-D "8 0ver 7" Buffalo Nickel graded PCGS MS65 realized a price of $264,500 at auction.
*Metalworking process used to make dies
Coin Specifications
Designer: James Earle Fraser
Composition: 75% copper, 25% nickel
Diameter: 21.2 mm
Weight: 5.00 grams
Edge: plain

< 1916 Double Died Buffalo Nickel | 1924-S Buffalo Nickel >