The 1926-S Buffalo Nickel (Buy on eBay) has the lowest mintage of the series with 970,000 pieces struck for circulation. This issue is scarce in all grades, but especially so in About Uncirculated or Mint State grades.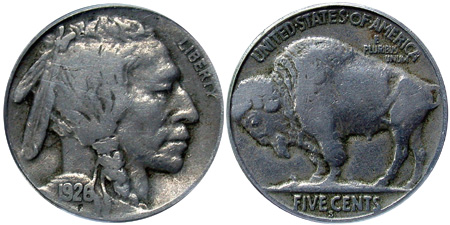 Most uncirculated examples tend to be in the lower MS grades and are often weakly struck. Gem examples are ultra rare with perhaps a dozen pieces certified by PCGS and NGC after eliminating resubmissions. Finding a quality example with choice surfaces may require several years of intensive searching, as they are a major rarity within the series. An example graded PCGS MS65 sold for $80,500 at an auction held in April 2009.
Other San Francisco minted Buffalo Nickels which are scarce in high grades include the 1918, 1920, 1924, and 1927 coins.
Coin Specifications
Designer: James Earle Fraser
Composition: 75% copper, 25% nickel
Diameter: 21.2 mm
Weight: 5.00 grams
Edge: plain

< 1924-S Buffalo Nickel | 1937-D Three Legged Buffalo Nickel >