The 1937-D "3 Legged" Buffalo Nickel (Buy on eBay) is a unique variety that remains very popular with collectors. The coin takes its name from the fact that the buffalo on the reverse of the coin appears only to have three legs. The front foreleg was removed by over-polishing the die, leaving only the hoof. Collectors fascination with the unusual appearance has made this one of the most famous coins of the 20th century.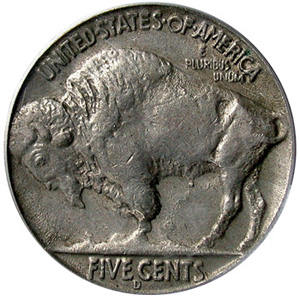 During normal production of 1937 nickels at the Denver Mint, excessive die clashing had occurred. A die clash takes place when the obverse and reverse dies strike each other without a planchet between them and part of the image from one die is impressed upon the other. The clashing was noted by a newly hired and somewhat inexperienced Mint employee. He attempted to remove clash marks by extensively re-polishing the dies. During the re-polishing of the reverse die, one of the buffalo's legs was inadvertently removed. Either overlooked or not deemed important, the reverse die was put back into production. The coins struck from the die were quickly released into circulation.
Since the "three legged buffalo" variety was produced from only a single reverse die which had already been used in production, it is estimated that perhaps 20,000 examples were originally struck. Although it took some time for the variety to be discovered, once it became widely known values rose and the pieces were quickly pulled from circulation.
Both PCGS and NGC identify the Three Legged Buffalo Nickel by including "3 Legs" on the holder. Pieces are in demand in all grades, but especially so in Mint State. Between the two major grading services, approximately 20 pieces have been graded MS66, with two coins graded MS 67 by NGC. One of the examples graded PCGS MS66 sold for $80,500 at auction in August 2007. In more recent years, other examples carrying the same grade have sold for around $50,000.
Coin Specifications
Designer: James Earle Fraser
Composition: 75% copper, 25% nickel
Diameter: 21.2 mm
Weight: 5.00 grams
Edge: plain