For the first year of issue, the Buffalo Nickel was produced in two distinct types. The original or Type 1 design features the buffalo standing on a raised mound. The revised or Type 2 design features the buffalo standing on a flat plane or line. The main purpose of the redesign was to place the inscription "FIVE CENTS" within a recessed area so it would not wear away quickly in circulation.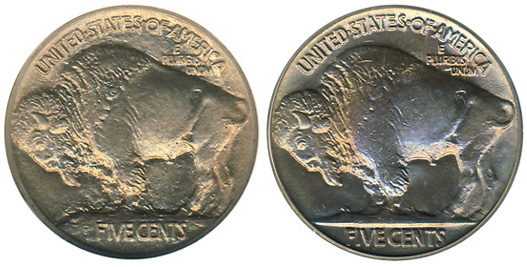 Both types were produced at all three mint facilities in operation. The Philadelphia Mint also struck both types in Proof format. At the time, a sand blast matte finish was utilized rather than the brilliant Proof finish.
The 1913 Type 1 Buffalo Nickel (Buy on eBay) was struck in slightly higher numbers, with production of 30,992,000 at Philadelphia, 5,337,000 at Denver, and 2,105,000 at San Francisco. Generally speaking, each of these coins is more readily available than the Type 2 counterpart of the same mint mark.
For the 1913 Type 2 Buffalo Nickel (Buy on eBay), production was 29,857,186 at Philadelphia, 4,156,000 at Denver, and 1,209,000 at San Francisco. Both the "D" and "S" mint mark coins are considered semi-keys for anyone assembling a circulated set. Each of the coins is more conditionally challenging in Mint State grades and command premiums above the Type 1 versions. Often these coins will be less fully struck, a problem that would persist for later years of the series.
For the Matte Proof coins struck at Philadelphia, the Type 1 with a mintage of 1,520 commands a premium above the Type 2, which had a mintage of 1,514. The number of survivors are in the hundreds. It is recommended that only certified examples of these Matte Proofs should be purchased, as some Mint State examples can closely resemble Proofs.
Coin Specifications
Designer: James Earle Fraser
Composition: 75% copper, 25% nickel
Diameter: 21.2 mm
Weight: 5.00 grams
Edge: plain

1916 Doubled Die Buffalo Nickel >