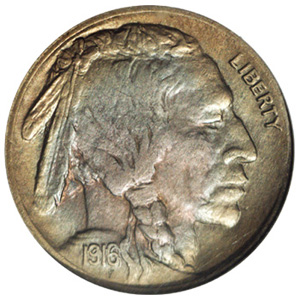 The 1916 Double Die Buffalo Nickel is a true rarity of the series, and more broadly an important rarity of 20th century United States coinage. Strong doubling is apparent on all digits of the date, as well as the Indian's profile and the feathers at the back of the head. The coin is rare in all grades, and even circulated coins with no date bring strong prices.
It is estimated that fewer than 250 examples of this scarce issue exist. The double die was not discovered until decades after its production, which greatly reduced the survival rate. Most survivors also tend to be circulated examples, with fewer than ten examples estimated to have survived in mint state grades. The highest graded examples by PCGS and NGC are a handful of coins graded MS64. Apparently, no gems have survived.
Even though this issue is many times scarcer, it is considerably less well known than the 1955 Double Die Lincoln Cent. More recently, the 1916 Double Die Buffalo Nickel has gained some popularity, with mint state examples generating attention when they appear at auction.
In May 2009, an example graded PCGS MS64 sold for $184,000 at auction. The Red Book lists a value of $2,200 for well circulated examples graded G4.